Charity

The Caledonian Kings raised an impressive £8376.18 for the Scottish Charity Air Ambulance, well done Ian, Dougie, Scott, Paul, Martin & Mark
---
You will be covering what some cars do in four months in four days, it will be a challenge, you will push boundaries so why not do it in honour of a good cause and raise money for charity? At the end of the day you are planning to drive a vehicle across nine countries in four days! This could be a local or national charity.
Remember those days at school, running round with a folded up bit of A4 paper asking teachers, parents, family and friends to sponsor you, well the same principle applies here. Get your clipboard armed and get those sheets filled.
Another great way to raise the profile of your adventure would be to create a Facebook page and keep it updated with pictures of your banger development, sponsorship target and with the use of your smartphone update and get people following you whilst on the move!
However, if you're looking to raise the big bucks we strongly recommend using an affiliated organisation such as www.uk.virginmoneygiving.com or www.justgiving.com which is a great way in which people can support you wherever and whenever through their website, Facebook or text.
There will be an additional prize from us here at Two Ball Rally for the team who raises the most sponsorship.
You can also try your hand at corporate sponsorship to help with the development of your banger; in the past we have managed to get graphics, car parts and fancy dress costumes donated in return for the odd logo on the banger!
---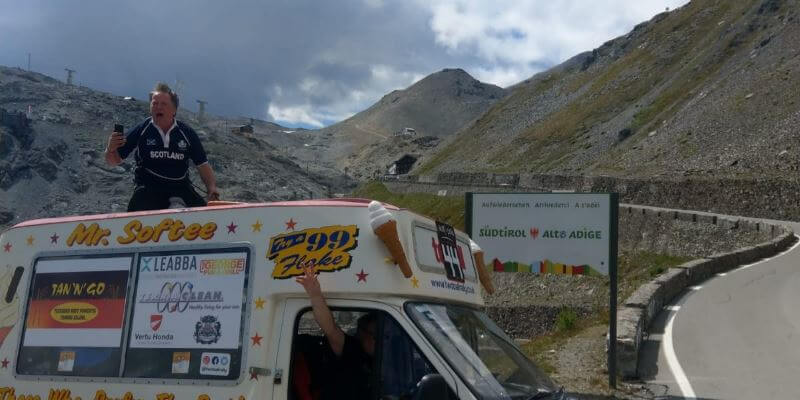 Dave Rivers even surfed his ice cream van up the Stelvio Pass for his chosen charity Chernobyl Children Lifeline. Not sure why he's wearing a Scotland Shirt... he's from Darlington!